ohn Marshall Harlan, the grandson of the associate justice of the Supreme Court of the same name, was born on May 20, 1899, in Chicago. A graduate of Princeton University, he studied law at Oxford University and the New York Law School. He was a successful trial lawyer in New York, served in the Air Force during World War II, and held a number of governmental positions in both New York and Washington. President Dwight D. Eisenhower appointed him to the Court of Appeals as a judge in 1954, and a year later nominated him to the Supreme Court. The Senate confirmed him by a vote of 71–11.
Harlan was a strong defender of federalism, of judicial restraint, and of the First Amendment's guarantee of free speech. His concern with federalism is manifested by his votes and opinions in criminal procedure cases. He steadfastly refused to accept the notion that the Due Process Clause incorporated all, or even some, of the Bill of Rights. Instead, he argued that the states must be given discretion in organizing their criminal justice systems so long as they did not violate fundamental fairness. For this reason, he was a dissenter in both Mapp v. Ohio (1961) and Miranda v. Arizona (1968). His concern with federalism also caused him to dissent in Baker v. Carr (1962), which held that reapportionment was a justiciable matter and could be resolved by federal courts. Generally, he believed that the states were responsible for such matters as law and order, obscenity, and elections.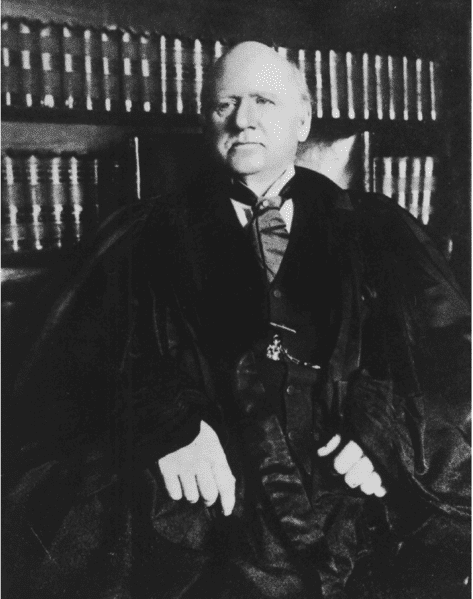 John Marshall Harlan. Library of Congress, Prints and Photographs Division.
Harlan was also an advocate of judicial restraint, not only warning the Court to stay out of the "political thicket" of reapportionment but also urging the Court to avoid becoming involved in controversial cases unless there was a clear requirement for it to do so. For example, he dissented in Flast v. Cohen (1968), which seemed to open the courtroom door to federal taxpayers' suits.
Despite his generally restraintist viewpoint, Harlan often was a strong defender of freedom of speech. In one of his first opinions, Yates v. United States (1957), he held that even admitted members of the Communist Party could not be convicted under the Smith Act because of their beliefs; only proof that they advocated some specific overt illegal action would permit a conviction. In a very different context, Harlan wrote the Court's opinion in Cohen v. California (1971), upholding Cohen's right to wear a jacket with a four-letter obscenity printed on the back in the Los Angeles County Courthouse. On the other hand, in the same year, Harlan dissented in New York Times v. United States (1971) when the Court lifted the lower court's injunction against the publication of the Pentagon Papers.
Harlan suffered from bad eyesight in his later years, and in 1971 was diagnosed with cancer of the spine. He retired on September 23 of that year, and died on December 29. He is not easy to classify as either a liberal or a conservative. He was, however, a staunch believer in federalism and judicial restraint
SEE ALSO: Baker v. Carr; Exclusionary Rule; Fourteenth Amendment; Incorporation (Nationalization) of the Bill of Rights; Mapp v. Ohio; Miranda v. Arizona; Reapportionment
Bibliography
Nathan Lewin, "John Marshall Harlan," in The Supreme Court Justices: Illustrated Biographies, 1789–1993, ed. Clare Cushman (Washington, DC: Congressional Quarterly Inc., 1993); David L. Shapiro, ed., The Evolution of a Judicial Philosophy: Selected Opinions and Papers of Justice John M. Harlan (Cambridge, MA: Harvard University Press, 1969); and Tinsley E. Yarbrough, John Marshall Harlan: Great Dissenter of the Warren Court(New York: Oxford University Press, 1992).