Roger Brooke Taney (1777–1864) was the fifth chief justice of the United States. Although he was one of our most intelligent and able jurists, he will always be remembered as the person who handed down one of the Court's most infamous decisions.
Taney was born on March 17, 1777, in Calvert County, Maryland. He graduated from college in 1795 and studied law for three years under the tutelage of a Maryland judge. He was admitted to the bar in 1799, served one year in the Maryland House of Delegates, practiced law, and married Anne Key (the sister of Francis Scott Key) in 1806. The marriage produced six daughters as well as a son who died in infancy.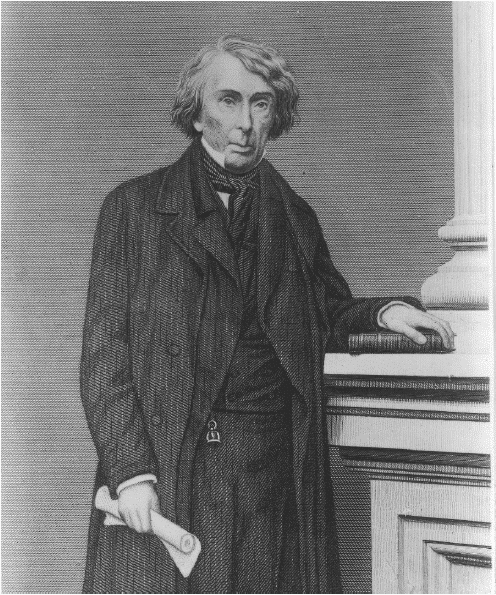 Taney was elected for a five-year term to the Maryland Senate in 1816, practiced law in Baltimore, and was elected Maryland attorney general in 1827. President Andrew Jackson chose him to be U.S. attorney general in 1831, and later named him secretary of the treasury. However, after he held that post for nine months, the Senate in 1834 rejected the nomination. The following year Jackson nominated Taney for the Supreme Court, but the Senate did not confirm him. With the death of Chief Justice John Marshall, Jackson nominated Taney for chief justice, and he was approved by a 29–15 vote on March 15, 1836, the first person of the Roman Catholic faith to sit on the Court.
Taney's first major opinion was in Charles River Bridge Company v. Warren Bridge Company (1837), in which he upheld a state chartering of the Warren Bridge Company to build a bridge close to where the state had previously granted a charter to the Charles River Bridge Company to build a bridge. He argued that the state had to protect the welfare of its people over claims that the granting of the second charter violated the Contract Clause of the Constitution.
Although the bridge decision was generally popular, Taney is always remembered for his unfortunate decision in Dred Scott v. Sandford (1857), in which he held that black persons were not citizens of the United States because they were not citizens at the time the Constitution was ratified. He also held that Dred Scott was a slave because Congress acted unconstitutionally in the 1820 Missouri Compromise when it banned slavery in parts of the Louisiana Purchase. Slavery, Taney argued, was a matter for the states to decide.
Although Taney was vilified by the public for the decision, he stayed on the Court until his death on October 12, 1864, at age 87. He gave a lifetime of service to his country, but will be remembered by most for his Dred Scott decision, which marred his extraordinary accomplishments.
SEE ALSO: Cooley v. Board of Wardens; Dred Scott v. Sandford; Charles River Bridge Company v. Warren Bridge Company
Bibliography
Clare Cushman, "Roger B. Taney," in The Supreme Court Justices: Illustrated Biographies, 1789–1993, ed. Clare Cushman (Washington, DC: Congressional Quarterly Inc., 1993); Walker Lewis, Without Fear or Favor: A Biography of Chief Justice Roger Brooke Taney (Boston: Houghton Mifflin, 1965); James B. O'Hara, "Out of the Shadow: Roger Brooke Taney as Chief Justice," Journal of Supreme Court History 1 (1998): 21–34; Don E. Fehrenbacher, The Dred Scott Case: Its Significance in American Law and Politics (New York: Oxford University Press, 1978); Timothy S. Huebner, The Taney Court: Justices, Rulings, and Legacy (Santa Barbara, CA: ABC-CLIO, 2003); and Carl Brent Swisher, Roger B. Taney (New York: Macmillan Company, 1935).